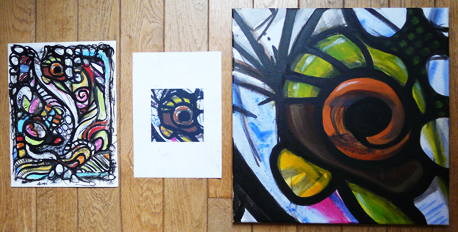 FR
Behind the pixel vous submerge dans l'envers du décor d'un monde pixellisé. Marc Bourguignon, dit Aimbé, tente l'expérience d'une peinture automatique permettant à l'inconscient de s'exprimer, affranchi de toute contrainte figurative… même si finalement, elle parvient à refaire surface. Les traits sont minimalistes. Les couleurs vives ne sont pas sans rappeler la palette fauve. L'œuvre se veut spontanée. L'influence du mouvement Cobra et plus particulièrement de Pierre Alechinsky, maîtres à penser de l'artiste, se fait très présente. Scrutant à la loupe le résultat de cette expérience, Aimbé reproduit sur un format carré ou « pixel », forme parfaite qui s'est imposée d'elle-même, les moments d'équilibre, essentiels à ses yeux dans ce voyage d'un autre monde. Un univers organique. L'infiniment petit devient l'infiniment grand et s'impose au regard du visiteur.
NL
Behind the pixel dompelt u onder in de keerzijde van een 'gepixelde' wereld. Marc Bourguignon, Aimbé, schildert vanuit een automatische spontaniteit en laat zo toe dat het onderbewustzijn zich manifesteert zonder enige figuratieve dwang. Vreemd genoeg komt net dat figuratieve toch weer bovendrijven. De penseelstreken zijn minimalistisch. De levendige kleuren herinneren aan het ongeremde palet van de fauvisten. De invloed van de Cobrabeweging en meer bepaald Pierre Alechinsky is nadrukkelijk aanwezig. Aimbé vergroot telkens in een vierkant of « pixel » formaat, dat zich vanzelf aandiende en al snel perfect bleek, details uit van zijn 'andere wereld', een organisch universum. Het oneindige kleine wordt zo oneindig groot en dringt zich op aan de blik van de bezoeker.
EN
With Behind the Pixel dive behind the scene of a pixelated world. Marc Bourguignon, aka Aimbé, experiences the automatic painting which allows the unconscious to express itself without any figurative constraints… even if they in the end reappear. The features are minimalist. The strong colours do not try to hide the fauvist influence. The work wants to be spontaneous. Influence of the Cobra movement and more precisely of Pierre Alechinsky, the mentor of the artist, is evident. Examining closer the result of this experience Aimbé reproduces in a square format or « pixel »– perfect format which imposed itself – the moments of balance essential to his eyes during the travel in another world. An organic universe. The endlessly small becomes endlessly big and embraces the visitor.
Texte original (FR):  Farrah Boukhoubza, Historienne de l'Art
Vertaling (NL):  Sofie Vandenhouwe
Translation (EN):  Kristina Prunerová